Alison Reese:
The Sea Archer (The Heaven and Earth Series) by Jeny Heckman (The Wild Rose Press/2018/Fantasy Romance/376 Pages):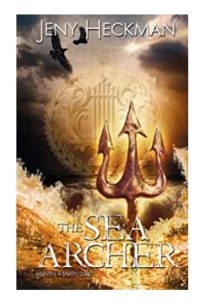 The Sea Archer promises and delivers a compelling story inspired by Greek mythology, and it's an exciting ride for characters and readers alike.
Multi-talented musician Raven is highly successful, but she's grown tired of her pop-star image. She longs to perform her own material and redefine her brand that currently requires skimpy outfits and heavy makeup. But her manipulative manager/husband Donovan insists she'll lose fans if she changes even one dyed-hair on her head. After Raven catches him cheating, Donavan promptly divorces her, yet still keeps tight-fisted control of her emotions and career. At the urging of her twin brother Wyatt and her best friend Que, Raven travels to Kaua'i for a much needed three month respite. Once there, she slowly reclaims her power.
Marine biologist Finn enjoys the sweetness of women but has no intention of settling down. He was raised on the Hawaiian island of Kaua'i by his beloved grandmother—a delightful and quirky woman named Dee. Finn loves his job and life on the ocean and has a natural affinity toward sea creatures, particularly monk seals. When Finn encounters Raven at the beach, and he can't keep his mind off her, his world stops making sense. Adding to his worries, his grandmother begins talking about Greek prophecies as if they're real. But while in the midst of questioning her sanity, strange things happen to Finn that can't be easily explained.
The premise of The Sea Archer is fascinating and entertaining. This book is skillfully written and the characters are well rounded. One of the over-arcing themes is environmental consciousness, so some scenes are heartbreaking yet necessary. Once I started reading this novel, I couldn't put it down.
Jean Grant
This story is about Finn and Raven, two opposites from different worlds who might just very well be connected by a root in the mythical Greek Gods. I enjoy a story that takes real world and flavors it with the supernatural/mystical. The author blends a story of romance, healing and growth, and a wee bit of the paranormal. It was a fun read and had me wondering if these two were going to end up together. I appreciated the characters' backstory and especially like Dee, Finn's grandmother (I love layered secondary characters). The Hawaii setting was a joy to read about and I could definitely see that this author did her research. Makes me want to go on a vacation right now in the midst of a looong winter! 
Natalie Anderman
I'm not usually a fan of fiction, but this book had me interested the entire time. I couldn't put the book down! It's a perfect blend of romance, distress, happiness and fantasy. Jeny did a wonderful job of giving each character voice which makes it easy to identify with them. Raven and Finn's relationship is one that will keep you on the edge of your seat as one moment you think nothing could go wrong, and the next personalities clash. The story of Raven is uplifting as she draws herself up from a troubled childhood to become the successful and strong woman she is. I could go on and on, but in summary, this book is all around fantastic. I can't wait for the next one to see who they find!
Quirky K.
"If you're interested in different types of mythology, then you'll totally love this beautifully written novel.
This story is very immersed in mythology, romance, suspense, and mystery.  In the beginning, it may be confusing at first if you're not familiar with the mythology.  You will catch on as you read on. I was fortunate enough to really follow the storyline without getting lost. I started reading mythology when I was in 5th grade in a tiny library in my school out in the country.  As you read on, the story will flow.
The mythology and fantasy combined were extraordinarily woven together with the present, the past, the suspense, romance and the thrill of a mystery without being a hot mess.
The day I started reading it, I did not want to put it down, but I was so exhausted, my nook fell on face and stayed there til I woke up, but I went right back reading it. It's just that good. The ending ended with a BANG!  I LOVED it!  I cannot wait for the 2nd book to come out.
I received this wonderful eARC from Wild Rose Press Inc through Net Galley in exchange for my unbiased and honest review. Thank you!"

Where The Wild Reads Are.
"I enjoyed the story. The plot was easy to follow and I really flew through the book. The characters were fun and I enjoyed the subtle references to modern day content.
I loved Dee. She's the cool grandma everyone wants! Finn is the typical guy in these kinds of books. Attractive, sexy, temperamental but yet loyal & caring. Raven is sweet and introverted. And while she made me want to smack her on the situations where she was weaker, I moved passed it and allowed it to show her journey and growth as a character. Personally, I thought Donovan deserved more than just a slap across the face. But was proud of her in the end when she told him to shove it.
I thought her and Finn's relationship moved a little too quickly. I mean the woman just got a divorce from a man that cheated on her with a much younger woman. It's gonna take more than a couple of evenings and attraction for me to trust someone enough to spread my legs for them. But that's just me. I understand that you've gotta get the storyline and their relationship going so I chose to look past it and continue on. Albeit through some eye rolls.
I would say this is not a "fantasy" novel. There were some references to Greek Mythology but not enough for me to say this is a Fantasy novel. I'd put it in the adult romance category. I understand that this is the first book of a series so I certainly hope that there's more Greek mythology in the rest of the series! Hoping it's the adult version of the Percy Jackson novels that I read as a kid.
Ultimately I would recommend this to other people and am looking forward to reading the next book in the series! So please get that out ASAP!"

InD'Tale Magazine 
"Raven finds herself divorced, alone, and lonely. She is encouraged to take a vacation and hightails it to lush Hawaii in search of peace and rejuvenation. Doing her best to keep her fame from being touted on the islands, she hides in a luxurious but comforting vacation rental, where she stumbles upon a scene of a beautiful and compelling seal in trouble, but that's nothing compared to the flair of awe she sees in the handsome stranger. Finn feels enthralled by the lovely Raven the moment his eyes meet hers across the sand, though he has no idea why he is so captivated, but her new and possessive manager does his best to thwart Finn at every turn. Between the waves, seals, music, and Finn's Greek mythology-absorbed grandmother, suspense and love will have its way."
Account D 
I thought this book overall was good. I liked the writing and the plot. The characters were good and the book kept me intrigued throughout. I felt it was an okay read and it had a lot of positives but also a few negatives that I won't point out due to spoilers.

Keisha M.
"I love any Greek mythology based romance and this was a great start to a new series. A few hit or misses but definitely has great grounding for a hit fantasy series! There was more romance than fantasy and adventure so that was a little disappointing for me. I like my fantasies very adventurous with struggles and mystery so that the romance is worth fighting for. I could see what the author is trying to attempt with this and expect the sequels to be much better."
Stacey L.
"I had pre-ordered Sea Archer because I really liked the premise, you wrote it and I'm a reader. I didn't get a chance to start it yesterday however I started it this morning. I've been reading all day except for the 2 hours I went to lunch with my son. You have written an amazing book. For me, the mark of an excellent book is when I lose track of time and when I have to stop reading I'm slightly resentful of whatever has caused the interruption. I'm halfway through and I have to stop for a couple hours and I'm mad I have to stop. It's the story and the characters that grab you and pull you in. I just had to tell you it's amazing so far."
Anthony P.
"I enjoyed the book and look forward to the sequel. An oceanographer, Finn and a singer, Raven cross paths and discover they have a common ancient past going back to the Greek Gods. Along their journey, they discover they were selected to save the world."
Heirloom
"This was a great read for a first-time author. I was easily able to visualize the characters and the storyline. I am looking forward to the next "chapter" in the Heaven and Earth series. The only difficulty I had was with the prologue. It was hard for me to get my head around the "pecking order" for the Greek gods so I was glad to see the genealogy chart in the author's newsletter. It made it more understandable. I highly recommend the Sea Archer."