Colleen L. Donnelly
Letters and Lies
Born and raised in the Midwest, Colleen studied and worked in science, using that career to travel and explore other parts of the country. An avid fan of literature, both reading and writing, she loves tales involving moral dilemmas and the choices people come up against. A lover of the outdoors as well as a comfy living room, Colleen is always searching inside and out for the next good story.
Connect with her: 
Hello Colleen! Welcome back to the Spotlight! I'm so glad you've joined us today!
Let's start with how you chose your genre, as a writer?
I chose historical for two reasons: first, my age…I'm old enough to understand some of the less modern ways of doing things; and secondly because I want my characters to have to struggle to solve a situation rather than punch a button.
Great reason! And how do you choose your character's names and physical characteristics? Do you base them on real people?
I always begin with the names of people I've known, then decide whether that person might have a bone to pick with me based on some incident in the past and take issue that I used their name. Very few, if any, would, but if anything comes to mind, I scratch their name off the list. From there I choose simple names that are easy to remember and don't begin with the same letter as any other character in the story. Physical characteristics—I'm not very clever there. I think everyone in my books is tall…I'm tall…but the hair color varies.
I know what you mean first hand! It's hard to explain the name doesn't have anything to do with the personality of the person you've chosen. What inspired the title, Letters and Lies? 
I have learned that no matter how inspired the title I created for my book is, if someone else has already used it, I go to second, third, fourth, etc. best. So "Letters and Lies" wasn't my original working title, another author had already chosen that, but it turns out Letters and Lies is perfect, because my heroine's problems came in that order—first the letters and then the lies.
And sometimes it feels like every title known to man has been used! Do you have any inspiring advice for new authors? 
Honestly? Decide before you present your work to the world that you won't take negative responses personally. Keep a thick skin between you and constructive and not so constructive criticism. Learn and grow from what's helpful to your work, and let the rest go.
Original and fantastic advice? It can be so difficult...all the rejection. It's good to know that going in. What book have you read and wished that you'd written? 
Anything by Louise Penny.
Do you have a favorite quote?
It ever has been since time began, And ever will be, till time lose breath, That love is a mood - no more - to a man, And love to a woman is life or death. Ella Wheeler Wilcox
Finally is there a message in your novel that you want readers to grasp? And what would you most like to say to your readers?
Forgiveness is most often the message in my serious novels, but "Letters and Lies" was written purely for fun, and THANK YOU!!!!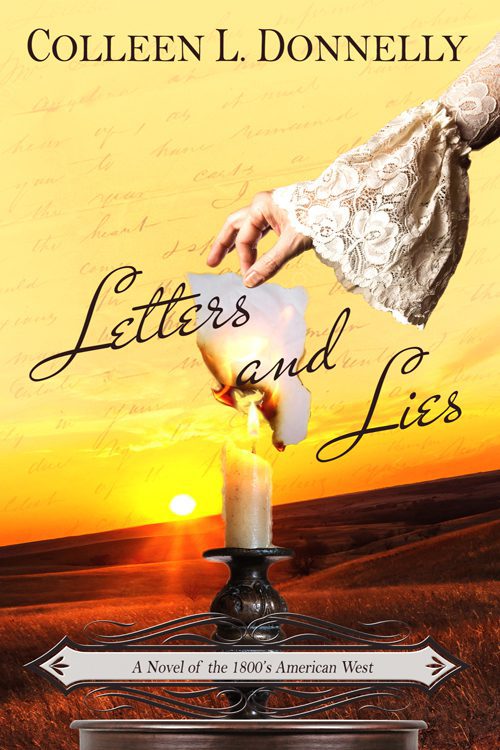 LETTERS AND LIES
Release Date: May 25, 2020
Publisher: The Wild Rose Press
Cover Artist: Jennifer Greef
Genre/Sub-Genre: Historical Romance
Blurb:
Louise Archer boards a westbound train in St. Louis to find the Kansas homesteader who wooed and proposed to her by correspondence, then jilted her by telegram – Don't come, I can't marry you. Giving a false name to hide her humiliation, her lie backfires when a marshal interferes and offers her his seat.
Marshal Everett McCloud intends to verify the woman coming to marry his homesteading friend is suitable. At the St. Louis train station, his plan detours when he offers his seat to a captivating woman whose name thankfully isn't Louise Archer.
Everett's plans thwart hers, until he begins to resemble the man she came west to find, and she the woman meant to marry his friend.
An Excerpt
"He wrote and changed your plans? Why didn't you tell me? You know I love hearing his letters."
Everyone loved hearing his letters. Or at least they'd pretended to. I glanced at my friends, especially the one who'd first suggested I correspond with her husband's homesteading friend in Kansas who was ready to look for a wife. She dabbed at her eyes with a handkerchief while she flicked the fingers of her other hand in a weak wave. I dredged my soul in search of a smile. The man she'd introduced me to truly had penned everything I'd ever wanted in a husband, months of letters which convinced Mama Jim was my open door. Letters I'd foolishly carted from family to friend to blather every word like a desperate spinster. Drat.
"He didn't send his change of plans in a letter, Mama. He sent them in a telegram." Don't come, I can't marry you. The only words I never shared. 
"Well, I imagine your Jim has a surprise for you and didn't have time to send a letter before you left for Crooked Creek. How thoughtful to wire you instead."
Thoughtful…I felt poisoned and Mama would too if she ever found out Jim had shut my open door. Which she wouldn't, since as soon as I got out there and found him, I'd wedge it back open again.
Let's finish with everyone's favorite… Speed Dating!
Your favorite movie: Follow the Stars Home
Best place you've visited: Rhode Island
Place you'd like to visit: England
Favorite food: Pizza
If a movie was made about your life, who would you want to play you? Sandra Bullock
What song best sums you up? Two Out of Three Ain't Bad
Oxford comma, yes or no? Yes
Pen or pencil? Pen
Favorite music? Classical
Coffee or tea? Coffee
What does your desk look like? Unused
What is your writing vice or must-haves? Quiet
Plotter or pantser? Pantser
Mac or PC? PC
Favorite dessert? Apple Crisp
What is your favorite thing to learn about in your free time? New stitches
You have a time travel machine. Where and when? Kansas, late 1800s
Are you earth, wind, fire or water? Wind
"I hope you enjoy my stories as much as I enjoy creating them. A very wise woman said to me that everyone was a writer, some just don't know their own story. I hope you find yours and write it down."
Jeny Heckman