Linda Nightingale
BOOK SPOTLIGHT ON LIFE FOR SALE
Author of the Series: Tomorrow's Angels
Author Bio:
After 14 years in Texas, Linda returned home to her roots in the South Carolina red clay. She has eight published novels, four of which are available from Audible.com in audio. For many years, she bred, trained and showed the magnificent Andalusian horses. So, she's seen a lot of this country from the windshield of a truck pulling a horse trailer. She's won several writing awards, including the Georgia Romance Writers' Magnolia Award for Excellence, the Raven Award, and the SARA Merritt. In real life, she was a legal assistant. She loves to dress up, use the good china and crystal, and host formal dinner parties. She has a penchant for sports cars.
LIFE FOR SALE BLURB:
Mayfair Electronics has created life.
But four of their Special Editions—sentient androids indistinguishable from human—have escaped. Rebel, Christian Aguillard and his owner, March, are on the run, but they have a bigger problem than his creator's plan to destroy him. They've discovered that one of the renegades has suffered a dangerous malfunction, threatening them with more than just exposure.
Trapped on a cruise ship in the middle of the Atlantic, March and Christian must stop the insane robot before someone else dies. All the evidence points to March being the killer's next victim.

Hello Linda! Welcome to Jeny's TattleTales!
Okay lovely lady, give us the scoop on you!?
Well, I was born in South Carolina, sprouted in the red clay, but lived in Texas for 14 years. My mom and dad were splendid.  I'm an only child, so not much family.  I have two wonderful sons, one in England, one in Houston.
I can almost hear the southern twang! Tell us about your journey from aspiring writer to debut author? 
It was a dark and stormy night, and the way was long, with no end in sight. Then a friend told me to send the book I'd just finished to Double Dragon, a Canadian publisher. I shook my head, " But it is about a sensitive subject that all publishers list in their series of don't." I sent it, and 2 weeks later, I received a phone call that they wanted to contract the book. It was called Gemini Rising. Today, the book is published by Lot's Cave Publishing, under my pen name Bianca Swan, under the title, Her Brother's Wife.
Aw, I love that story! So, if writing is your first passion, what is your second?
Horses.  I bred, trained, and showed the magnificent Andalusian horses for many years. My stallion Bonito VIII was twice national champion and won tons of blue ribbons in other classes. He was my soul mate.
That sounds so fun! I'm very intrigued! If you could spend time with a character from your book, whom would it be? And what would you do during that day?
Oh, definitely Morgan from Sinners' Opera. He is tall, blond, blue eyes, and beautiful.  Charming, debonair, and knows how to treat a woman. The man is generally yummy.  He is a concert pianist and an English lord. Days might be a problem. He's a vampire.
Haha! It's always something with those debonair types! Do you need supreme quiet when you write or do you prefer music and/or background noise?
I need to be alone.  I play music sometimes and get into that magical world where my Muse talks to me. That white-hot stream of my imagination.
Me too! So, give us the scoop, what was the hardest, most unusual or interesting part of the story to research?
I can't tell you. It's a plot spoiler.
Aww, boo! When were you first published how did you celebrate?
After I recovered from the shock—Gemini Rising was a book I'd never expected to be published—I jumped into my car, hurried to the grocery. When I returned, I grabbed a chill bottle of champagne from the fridge and drank every drop while I ate chocolate-covered strawberries.
The most perfect celebration I can think of! How do you choose the names and physical characteristics of your characters? Do you base them on real people?
I didn't expect the first book to be published because it deals with a taboo subject most publishers won't touch.  It's now called Her Brother's Wife and published by Lot's Cave Publishing under my erotic romance pseudonym, Bianca Swan.
I don't think she's going to tell us anymore! You are just going to have to go out and but the book. Can you tell us what inspired this particular story?
Love for Sale, the first in the series. My Muse inspired that one with a 'what if' there were robots who looked exactly like humans, had feelings, and were quietly marketed as the perfect lovers. Clue: That isn't their true purpose.
Oooh! She did give us a hint after all! Finally, Linda, Wwhat would you most like to say to your readers?
Thank you!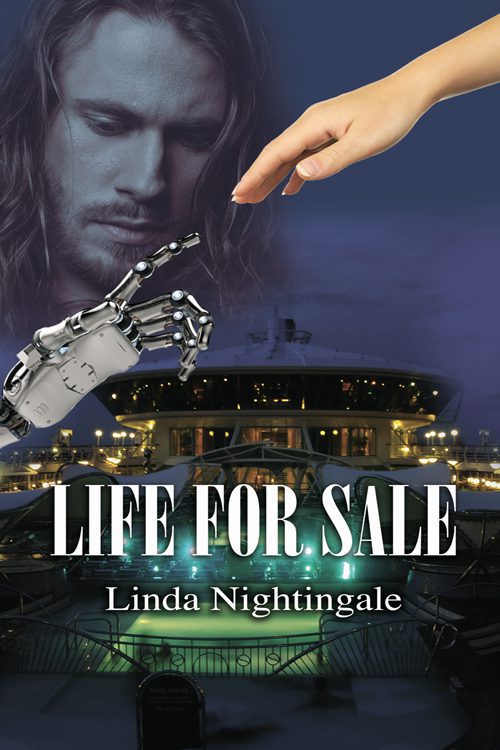 LIFE FOR SALE
Release Date: August 24, 2020
Publisher: The Wild Rose Press
Cover Artist: Kim Mendoza
Genre/Sub-Genre: Sci-Fi Romance
Excerpt 1:
March shivered again, rested her face on his chest. "Hold me until I stop trembling." Tears she didn't want him to see welled in her eyes. The whole ghastly business had to be hard on a man encoded to protect not harm humans.
Her AI angel stroked her hair, and a sob broke through her control. She squeezed her eyes shut, battling tears.
"Shush, dear. It's over now," but he didn't sound confident. The thing buried in the backyard could tear them apart or worse.  Any slight misstep and they both faced Death in all his chilling glory.
"I love you," she whispered.
He brushed a kiss to her lips and pulled held her closer.
For some time, they stood. taking comfort from holding each other and simply being, then, hand-in-hand, they walked, when they wanted to run, to the house. Christian had switched on the overhead light in the anteroom. In the brilliance, it was possible to pretend the past few minutes hadn't occurred. Again the tears threatened, and he held her until she'd regained control. She straightened, gazing into his eyes. Battered emotions stained them darker blue. Mayfair hadn't missed even that small detail. He cradled her face between his hands and kissed her tenderly, his lips soft and his body close. In a lifetime of searching, she'd never have found anyone like him. If she were to lose him…she couldn't imagine living without him.
Once, Mayfair had taken him away.  They could do it again—and there was absolutely nothing she could do about it. The golden ring on the third finger of his left hand should protect Christian from Mayfair, but who'd investigate a missing robot, or even believe her in the first place?
With almost religious fervor, she and Christian had adhered to Mayfair's first commandment. Above all, the company demanded secrecy. The Special Editions passed for human, and no one was ever to know that Mayfair had engendered life, but at any moment Aguillard, the wild card for whom the Christian line was named, might renege on the freedom he'd grudgingly bestowed.
Her cell rang, ending their moment of respite.
EXCERPT 2
The AI units fleeing their creator understood, beyond a reasonable doubt, that Mayfair could, had intended to and still might, destroy them with the negligent back sweep of a hand. Christian tried not to replay that night, but it was an indelible stain on his memory. Only a complete reset would change such total recall. Or erasing his memory would obliterate his entire personality.
Often, awake or in Sleep Mode, the frantic goodbyes echoed in his ears. He'd told Daniel to keep in touch, but any exchange put them at risk for discovery. Living in Mayfair's shadow, they faced perils enough. No one had contacted him. He'd contacted no one. Six months had passed since that fateful night in a foggy London alley.
"Good morning." March pressed against his back, massaging the muscles along the top of his shoulder. "You're deep in thought."
Christian Aguillard, sentient android, thanked God for March Morgan. She'd paid an exorbitant price for him, possessed a Bill of Sale to document her ownership, but from his point of view, she held the deed to his soul. Without March, he'd be like Daniel, Trevor, and Monica—cast alone into a potentially hostile society. Man feared what he did not understand. Fear bred hatred, and hatred became a danger.
He was programmed to love her, but that special coding hadn't been necessary. He'd fallen in love the instant he saw her, standing wide-eyed amongst his brothers and sisters in a room he thought of as smoke and mirrors. He catered to her in every way even though he might fight his independent streak sometimes. Was it love or programming? He didn't know.
Christian turned, tucking his chin to kiss her hand. "Memories."
She kissed the top of his head. "Thinking of the Great Escape?"
Nodding, he traced the clean line of her jaw with a fingertip indistinguishable from human. "I can't help wondering what happened to the others." He pushed back from the laptop, its screen littered with the inner workings of a rocket. "Your coffee smells good."
"That's better," she purred against his temple. "It's Saturday. You shouldn't be working anyway, and the coffee is a new brand I'm trying. From Brazil. Nutty, naturally sweet."
Mayfair had engineered Christian to be human.  In every way, physically and emotionally, he was human except, as a machine, he possessed certain advantages over Man—superior senses, faster reflexes, greater intelligence…and enhanced sexual prowess.  He'd been programmed to feel…to love, but often those feelings were a painful legacy. With total recall, he could relive the escape from Mayfair, accessing the emotions and data stored in the chips in his nervous system and in his computer brain. Today, 4,846 miles distant, excitement, joy, and despair chased through him, just as they'd done the night they declared their freedom. So far, he'd seen no Wanted posters for the missing androids, but any day a 'bounty hunter' from Mayfair might ring the doorbell or kick it down.
Christian activated an internal block installed to protect against an overload of emotion and turned to his wife with a smile. "You're too good to me, March-mine."
"You're easy to be good to." She caressed his ear, sending bolts of shivery pleasure along his inner pathways. "However, if another tall English hunk with crystalline blue eyes, wheat-colored hair, and an enormous price tag comes along, you could be replaced. Hey." She tapped his cheek. "According to my purchase contract, you're mine rather than vice versa."
"Events since have rendered that contract null and void." All mock arrogance, he tilted his head, gazing at her with a shrug and upturned palms. "We belong to each other."
Time for some of Jeny's TattleTales!
Favorite movie: The Libertine
Best place you've visited:  Norway
Place you'd like to visit: Portugal
Favorite food:  Lobster
If a movie was made about your life, who would you want to play you? Michelle Pfeiffer
What song best sums you up? Climb Every Mountain
Oxford comma, yes or no? Yes
Pen or pencil? Neither. Computer.
Favorite music? Classical or country.
Coffee or tea?  Coffee
What does your desk look like? Semi-disorganized
What is your writing vice or must-haves? Being alone
Plotter or pantser?  Panster
Mac or PC?  PC
Favorite dessert?  Crème Brulee
What is your favorite thing to learn about in your free time? History
You have a time travel machine. Where and when? 1660, Reign of Charles II
Are you earth, wind, fire or water? Earth, Capricorn here.
"I hope you enjoy my stories as much as I enjoy creating them. A very wise woman said to me that everyone was a writer, some just don't know their own story. I hope you find yours and write it down."
Jeny Heckman