S.K. Andrews
BOOK SPOTLIGHT on "Bay of Darkness"
Author of the "The Kelly Society" Series
Author Bio:
Starra Andrews grew up in Laguna Beach, California, body surfing in the Pacific Ocean, writing fantasy stories, and acting on stage. Having been influenced by the powerful scripts of Rod Serling and Richard Matheson from The Twilight Zone, she gravitated toward paranormal stories laden with hope.
Writing supernatural tales became her passionate hobby, in between life in the theatre. She loves to sip on hazelnut coffee while reading a riveting ghost story, or while typing up an exciting new chapter of her own. After attaining a B.A. degree in Theatre from the University of California, Irvine, and attending LACC Acting Academy, an idea sparked for interviewing actors to help student actors. Her non-fiction book The Pursuit of Acting; Working Actors Share Their Experience and Advice was published by Praeger Publishers/ABC CLIO.
In Fiction, her new heroine, psychic & paranormal cleanser Vivien Kelly and her team are in a race to rid the modern world of deadly Celtic creatures in her book trilogy The Kelly Society. Bay of Darkness, the first book of the series and has been awarded Finalist in the N.N. Light Book Awards 2019, and Finalist in the Readers Favorite Book Awards 2020. Starra lives in upstate NY with her two cats, Audrey Hepburn and Vivien Leigh.
Connect with her: 
Bay of Darkness Blurb:
After witnessing her fiancé's murder and almost dying herself, Vivien Kelly's mission is to destroy Dagda—a Celtic God turned demon. When Vivien discovers she worshiped Dagda in an ancient life as Boudicca, the Celtic warrior queen, she's compelled to the quaint Northern California town of Half Moon Bay. There Vivien finds Dagda's creatures tormenting the locals—from a Fear Dorcha to the Headless Horseman. The Kelly Society is then born—her own paranormal cleansing team and the race is on when people around her begin to die.
While banishing a Banshee, Vivien meets Neal Harrington—a soul partner who can promise true happiness. But when Dagda's black vapor creates a New World of darkness, her time is up. Can Vivien abandon everyone she loves and succumbs to Boudicca's barbaric force to defeat the demon? Her actions not only determine her future—but the future of the modern world.
Hello Starra! Welcome to Jeny's TattleTales!
Okay lovely lady, let's start this conversation with a simple quick question. What actors would you like in the main roles if your book were made into a movie? 
Definitely Gal Gadot (known for Marvel's Wonder Woman) and Michael Fassbender (known for young Magneto in X-Men).
What genre have you never written that you'd like to write? Why? 
Memoire, because I think it's so important to understand our past and how it shapes our future. It's also compelling to learn life lessons from reading about someone else's life and their challenges and victories.
What are the words you live by?
"Peace be the journey." (Quote from the movie Cool Runnings)
What was the hardest, most unusual, or interesting part of the story to research??
The most interesting part of writing Bay of Darkness, was studying Celtic Mythology. I learned so much, and the mythology is intense. I literally picked my evil creatures from a book called The Oxford Dictionary of Celtic Mythology.
How did your interest in writing originate?
When I was in elementary school, I would imagine stories and characters in my mind. I had to write them down because it felt so exciting to get the story on paper. That was the beginning of a lifelong storyteller—me!
Sophie's choice…Answer honestly which of your books is your favorite? (You can't say all of them)
The last question is… What would you most like to say to your readers?
I hope you enjoy the adventures I've written for not only the main characters Vivien and Neal, but all the "Scooby" gang group. I also hope you enjoy the backdrops for the challenging and enthralling events that take place. We go from New York City to gorgeous Northern California, San Francisco, and of course, to West Cork, Clonakilty Ireland. I also hope you enjoy Vivien's spiritual and character journey, which is one a lot of us can relate to—opening up to love again, tapping into your own inner strength, and allowing yourself to be powerful after a loss.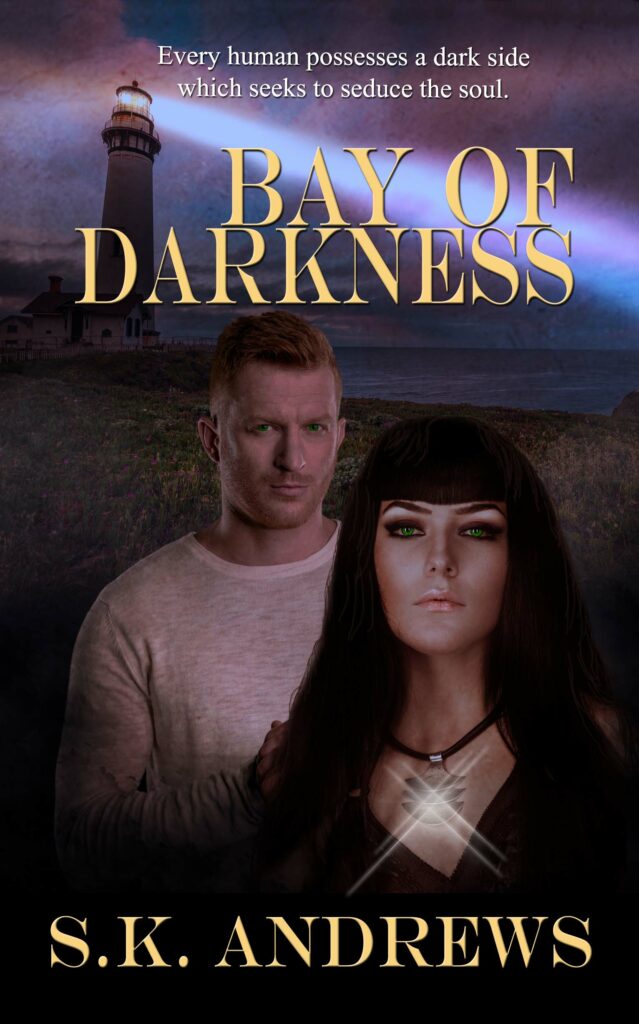 Bay of Darkness
Release Date: October 2, 2019
Publisher: The Wild Rose Press
Cover Artist: Debbie Taylor
Genre/Sub-Genre: Paranormal
Excerpt 1:
Announcing her presence, Vivien slapped open palms against the bedroom door. Shrieking stopped as the banshee tried to stab into her intuitive power, not even making a dent.
Julie, I'm here to help. Don't be afraid. After sending her telepathic message, she felt a definite shift. The young girl now had hope.
Sensing another female entity in the bedroom, Vivien tuned in sharper. A spirit connected to the house stood in front of Julie, also protecting her.
"That horrible noise stopped." Neal eyed the door urgently. "Is that good or bad? I mean, is Julie safe?"
"Yes, she's safe. I put a protective light around her."
Heaving a sigh of exhaustion, he rubbed his temple. "Oh, right—the light thing. This is all so weird." Neal's head popped up. "No offense."
"None taken." She grinned like a debutant about to dance with the coolest boy in school.
"What now?"
EXCERPT 2
"As they entered the foyer, Philip greeted the concierge. "Hi, Bruce."
"Hey, I thought you were off to your dinner?"
"Yep— just forgot something." He pushed the elevator call button.
"All I want to do is check my lipstick."
"Well, you won't have much time." They entered the elevator. "I know just where I left my notes."
"Really?"
"Yes. They are on my bedroom bureau."
"Interesting, because I'll bet they're sitting on your mantel."
He chuckled, leading her through the elevator door and down the hall. "I'll take that bet."
"Okay, let's see." Vivien's head cocked to one side. "I need a new pair of gloves."
Opening the door, Philip beamed with delight. "Done! If they're on the mantel, I'll buy you the most expensive pair of gloves in Manhattan!"
"I'm holding you to that." Her laughter ended when unadulterated fear erupted in goose bumps all over her arms.
He stopped in the doorway. "Are you coming in?"
"I'll be right there." She opened her purse.
"Okay." He walked inside, leaving the door open.
The clasp snapped as she closed her evening bag—the sound resonating in her ears. As if she had no will of her own, Vivien looked behind her. Her eyes settled on something unbelievable. A dark crawling mist in the shape of a man hovered in the hallway. It seemed to be staring at her. After a chilling moment, the thing propelled itself through the wall.
Time for some of Jeny's TattleTales!
Dogs or Cats?  Cats
Number of books you've written? 2
Name three things you see when you look right.
A plasma TV          
A bottle of water
My new Halloween plush toy
What's the best swag item you've ever seen?  A Halloween wreath in gold and black
Who do you think is the most irritating celebrity?  Sean Hannity
What is your most attractive feature?  My hair
Cook, baker, or next question?  Baker
Place you'd like to visit: Paris
If a movie was made about your life, who would you want to play you?  Diane Lane
What song best sums you up?  Walking on Sunshine
Describe yourself in three words:
Positive
Creative
Strong
If we were here when the earth began would you be a hunter or a gatherer?  Gatherer
Coffee or tea?  Coffee
Spring, Summer, Fall Winter?  Fall
Mac or PC?  PC
What is your favorite thing to learn about in your free time?  Legends of haunted places
You have a time travel machine. Where and when?  London, 1900 – just for a day. 
Are you earth, wind, fire, or water?  Air
"I hope you enjoy my stories as much as I enjoy creating them. A very wise woman said to me that everyone was a writer, some just don't know their own story. I hope you find yours and write it down."
Jeny Heckman