Susan Antony
Cherokee Summer:
Author Bio:
Susan Antony is an IT by day, hip-shaker and writer by night, artist whenever possible, and an internet addict. She lives in the sunny south with her teenage son and two Cairn Terriers. Cherokee Summer placed first in the Missouri Romance Writers of America "Gateway to the Best" contest.
Connect with her: 
Hello Susan! Welcome to the Spotlight!
Can you tell us a little about yourself?
I work in an IT department for a hospital by day. I'm a hip shaker and writer by night, an artist whenever possible, and an internet addict. I live in the sunny south with my teenage son and two Cairn Terriers.
LOL! I love it! How do you choose your genre, as a writer? 
I love the YA genre. Young adults love, hate, and play hard in an arena where the world shines new and the future burns wide open.  When I'm writing or reading YA, if I dig deep inside, I can recapture those intense, wonderful, and sometimes painful feelings and immerse myself in that time once again through the character's lives. I think if everyone's thinking was as broad-minded as teens, the world would be a better place.
What genre have you never written that you'd like to write?
 Southern Chick Lit.
And what was the most interesting part of the story to research?
For my book Cherokee Summer it was spending time on the Cherokee Indian Reservation and attending a Powwow was certainly the most interesting.
That's cool! How do you choose the names and physical characteristics of your characters? Do you base them on real people?
My main character's names came to me while developing the story. They were unique.  I did borrow a name or two from family members for secondary characters.
What inspired this particular story?
While visiting the Cherokee Indian Reservation in Cherokee, North Carolina, I remembered a crush I had on a Native American classmate when I was a tween and pondered how the relationship might have evolved had we been older. Chasing a childhood dream of becoming a writer, I put her imagination to work and her fingers to the keyboard and thus Cherokee Summer was born.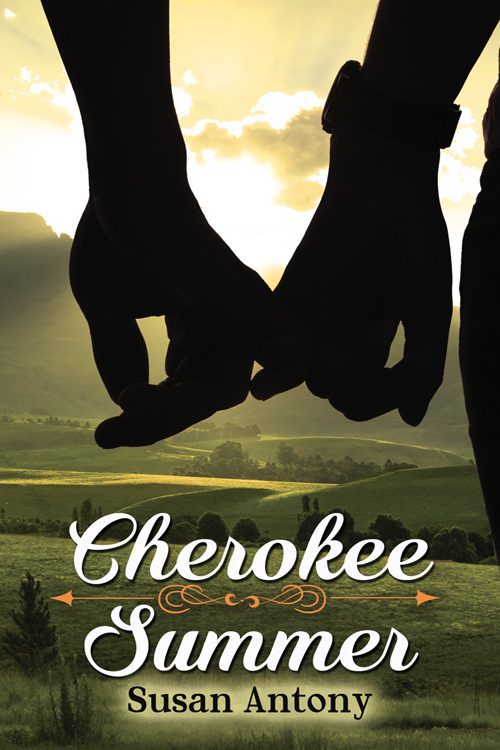 CHEROKEE SUMMER
Release Date: January 22, 2019
Publisher: The Wild Rose Press
Cover Artist: Kin Mendoza
Genre/Sub-Genre: YA Romance Multicultural, Contemporary 
Excerpt 1:
     I invite her into the circle of my arms. She leans against me and rests her head on my shoulder. Above us, the moon is nearly full, casting bluish light across the river. The sky is a starry mess.
     "Look." I point to the sky. "There's Ursa Major."
     "What?" she asks.
     "The bear constellation."
     "Where is it? Show me."
     I raise her hand and trace the starry image like I'm doing a dot-to-dot picture.
     "There's the head." I swoop her hand left. "And there's the tail." I finish by pointing out the bear's front and rear legs.
     "The way you do it makes it look like a skinny, headless dog," she says.
     I laugh. "Where's your imagination?"
      "Let me try." She lifts my hand and traces a detailed shape of a bear, describing the air-drawing from ear to toe. "Is that better?"
     "Perfect," I say. "Like you."
     She laces her fingers through mine.
     I rub tiny circles on her palm with my thumb as I speak. "When I was a kid, I used to fear the bear would swoop down from the sky and eat me alive."
     "That's horrible." She presses her lips together, and her ribs shake in suppressed mirth.
      "I wouldn't laugh if I were you," I say. "Elisi says that bear is pretty bad."
     "Don't worry. I'll protect you from Star Bear." She makes a muscle, flexing and releasing her cute bicep.
     "You will, huh?" I tickle her side.
     She squeals, wiggles around, and digs her fingers into my ribs. We engage in a full out tickle-war. In the middle of our battle, the wind shifts and the earth rotates, and soon we're on the ground with her straddling me, both of us panting.
     Our eyes lock, and I brush a strand of hair behind her ear. She leans over an inch at a time until her nose touches mine. She kisses me, only a peck, then runs the tip of her tongue around lightly around my lips. Unable to resist any longer, I pull her to me and crush my mouth into hers…
Let's finish with everyone's favorite… Speed Dating!
Your favorite movie: I like to many so I will go with the most recent: Once Upon a Time in Hollywood
Best place you've visited: Roma, Italia
Place you'd like to visit: Great Britain
Favorite food: Skippy Peanut Butter Bites. (I'm such a kid at heart)
If a movie was made about your life, who would you want to play you? Saoirse Ronan
What song best sums you up? Tubthumping ( I Get Knocked Down) by Chumbawamba
Oxford comma, yes or no? No
Pen or pencil? Pen
Favorite music? Rockabilly
Coffee or tea? Diet Coke
What does your desk look like? Mid-Century Modern acutally from the '50s.
Plotter or pantser? Panster
Mac or PC? MAC
Favorite dessert? Brock's Orange Mallow Pumpkins
What is your favorite thing to learn about in your free time? Ukulele
You have a time travel machine. Where and when? High School  in the '70s
Are you earth, wind, fire or water? Wind
"I hope you enjoy my stories as much as I enjoy creating them. A very wise woman said to me that everyone was a writer, some just don't know their own story. I hope you find yours and write it down."
Jeny Heckman