Wendy Kendall
Book Spotlight on Kat Out of the Bag
Author of the Series: In Purse-Suit Mysteries
Author Bio:
Wendy Kendall has a passion for purses and stories of the women through history who carried them. Her cozy mystery, Kat Out of the Bag, is the first book of the In Purse-Suit Mystery series. The prequel will be available on September 2nd, entitled, Purse-Stachio Makes A Splash.
Wendy is a blogger, editor, speaker, project manager, and syndicated columnist. Catch exciting author interviews on her two YouTube podcasts – A Novel Talk, and also, Kendall & Cooper Talk Mysteries.
She loves her two sons, Alex and Brad. 
Connect with her: 
Kat Out of the Bag:
When celebrated international purse designer Katherine Watson hosts a gala for her Purse-onality Museum she never expected the next day's headline to read: Murder at the Gala Premiere. After a dead body is found during the event, that's exactly what happened.
Working to solve the murder, Katherine matches wits with local cop Jason Holmes and his K-9 partner Hobbs. Although Holmes and Watson disagree often, they discover an undeniable attraction building between them. But they'll have to put their feelings on hold and focus on solving the murder before Katherine becomes the killer's next knock off.
So let's start with something different. If you could change something about one of your books already released, what would it be?
I'm so happy with my book, Kat Out of the Bag. It's a dream come true. I love hearing from readers how much they enjoyed reading it. I can't imagine changing anything. But I'm studying my craft all the time and I'm now enjoying writing the sequel.
Writing is always a work in progress, isn't it? Is there one of your characters you could just hang out with for a while? If so, who would it be, and what would you do during that day? 
Katherine Watson and I would drive along the coast on a bright, hot sunny day and then end up at her purse museum where we would design and put together a new display.
Tell us about your journey from an aspiring writer to a debut author.
Kat Out of the Bag was an intriguing, fun, and exciting 5-year effort filled with hard work. I immersed myself in the writing community in the Pacific Northwest. I'm thrilled at how many wonderful friends I've made on this journey. I worked hard in classes on craft, attended lots of writing conferences, joined critique groups, and learned from so many talented, hard-working writers and authors about the craft and the business. I've loved every minute of this journey.
I honestly don't know a better community of people then authors and their willingness to help each other. It's inspiring! Speaking of inspiring... Do you have any inspiring advice for aspiring writers?
Ask lots of questions and listen. Completely immerse yourself in the writing community, and make time to write every day. Don't be intimidated by a blank page – fill it yourself!
Fantastic advice! How did your interest in writing originate?
I've wanted to be a writer since I was 8-years-old when I declared I would be one when I grew up. I greatly enjoyed writing through my school days and even won a couple of awards.
That's encouraging, what a wonderful beginning. What was the most interesting or exciting part of the research while writing, Kat Out of the Bag?
The two most exciting parts of my research were my ride-along with the police K-9 patrol and also my trip to Little Rock, Arkansas to the Esse Purse Museum.
I learned so much when I interviewed police at a station near Seattle. Then I also went on an all-night ride-along with an officer and his officer dog. It was incredible watching them in action and learning all about their work.
The Esse Purse Museum tells women's history through the decades of purses on display that they carried. It's a fascinating place and I highly recommend it for a visit. I learned so much and really enjoyed meeting the incredible owner Anita Davis, and her wonderful staff.
I LOVE ride along's. Not only do you learn a lot about the job but also the people behind the job! How do you choose the names and physical characteristics of your characters? Do you base them on real people?
My characters are not real people, although they feel very real in my imagination. The names are something that I mull over in my mind for some time. I also get input and suggestions from other writers in my critique group.
Any new projects on the horizon?
The prequel, Purse-Stachio Makes A Splash is available starting September 2nd this year. I really enjoyed writing this book. Katherine Watson is chilled to discover a cold case of a missing girl from Bayside.
And I'm writing the sequel to, Kat Out of the Bag, now.
Fantastic, we'll be on the lookout! Finally, what would you most like to say to your readers?
I hope you enjoy solving the mysteries along with Katherine Watson and have fun, I write these stories for you.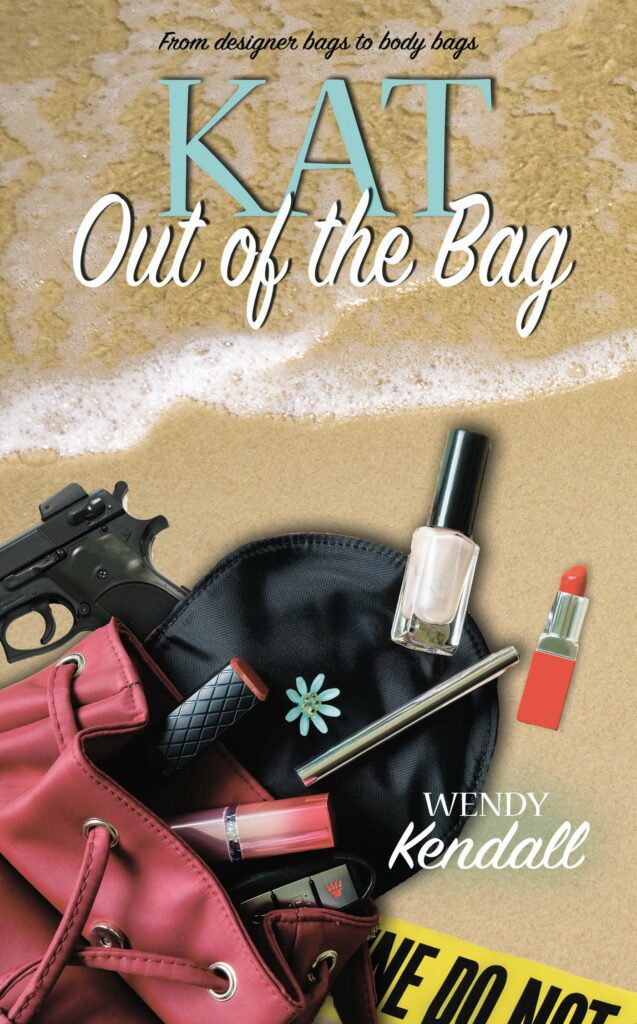 Kat Out of the Bag
Release Date: April 13, 2020
Publisher: The Wild Rose Press
Cover Artist: Kim Mendoza
Genre/Sub-Genre: Cozy Mystery
Excerpt 1:
"There's an officer nearby. We'll alert him. Hold the line."
Katherine was worried by the operator's monotone. Did she understand the urgency? Katherine watched in disbelief as the shadow figure moved toward the shed attached to the waterwheel. Too late, she thought to get a picture after the person disappeared inside the shed.
"Oh no," Katherine uttered. She spoke into the phone, "Hurry. I think it's the killer, maybe looking for something left behind? Hello?" Had the operator hung up?
"Yes, the officer is on the way. Please stay on the line." The operator's voice now sounded bored.
Fear gave way to irritation at the invasion. Irritation gave way to anger. Someone had to stop that killer from removing whatever incriminating thing was so critical it had driven a return to the scene of the crime. Katherine wanted to scream. Where were the police? Maybe MJ was right about them. She pressed against the french doors. The light in the shed went out. Her breath caught in her throat. The silhouette walked out of the shed toward the alley leading to the maze that burrowed throughout Bayside and beyond.
Katherine spoke gruffly and fast, "Hello. Where's your officer? The suspect is getting away."
"Ma'am, please stay calm and hang on the line. They're on the way."
Katherine unlocked the door to the yard and whispered to the 911 operator, "I'm in pursuit."
EXCERPT 2
Amber laid the bag on the counter, and then the paper next to it. She and Michael leaned over the paper as she began to unfold it with care. It was folded several times, and as she unraveled it Amber could see there was writing inside. Her trembling fingers began to work faster, impatient to see what it said. At the sound of a tiny paper tear, Amber caught her breath. Michael stood closer to her side and she paused, then she started unfolding again.
They huddled even closer together to make out the words from the faded ink. Michael began to read in his low voice.
Time for some of Jeny's TattleTales!
Favorite movie: Romeo and Juliet directed by Vincent Minelli
Best place you've visited: Florida
Place you'd like to visit: Italy
Favorite food: Italian
If a movie was made about your life, who would you want to play you? Anne Hathaway
What song best sums you up? Windy by The Association
Pen or pencil? Pen
Favorite music? Rock and Roll, but I also love jazz
Coffee or tea? Tea
What is your writing vice or must-haves? Chocolate treats
Plotter or pantser? Hybrid
Mac or PC? PC
Favorite dessert? Ice Cream
"I hope you enjoy my stories as much as I enjoy creating them. A very wise woman said to me that everyone was a writer, some just don't know their own story. I hope you find yours and write it down."
Jeny Heckman