Jean M. Grant
Author of the Hundred Series
TattleTales Spotlights: A Hundred Lies
Author Bio:
Jean's background is in science and she draws from her interests in history, nature, and her family for inspiration. She writes historical and contemporary romances and women's fiction. She also writes articles for family-oriented travel magazines. When she's not writing or chasing after children, she enjoys tending to her flower gardens, hiking, and doing just about anything in the outdoors.
A Hundred Lies Blurb
1322, Scotland
Rosalie Threston's fortune-telling lies have caught up with her. Uprooted yet again, she's on the run from a ruthless English noblewoman. She flees to Scotland and seeks refuge in the arms of a laird's son who happens to be a real Seer.
A bloody past and inevitable future plague Domhnall Montgomerie. He avoids physical contact with others to ease the painful visions. When an accidental touch reveals only delight, he wonders if Rose is the key to silencing the Sight.
Mystical awakening unravels with each kiss. But can Domhnall embrace his gift in time to save her life, even it means exposing her lies?


When she's not writing Peggy is usually painting, crafting, scrapbooking or decoupaging old steamer trunks she finds at rummage stores and garage sales.

A lifelong and avid romance reader and writer, Peggy is a member of RWA and her local New Hampshire RWA Chapter.

As a lifelong diarist, she caught the blogging bug early on, and you can visit her at peggyjaeger.com where she blogs daily about life, writing, and stuff that makes her go "What??!"
Hello Jean! Welcome to Jeny's TattleTales!
Okay, let's start out with some words of wisdom! What is the most monumental thing you've learned in each decade of your adult life?
20s: Life is short, and there are always second chances.
30s: Parenthood is freaking hard.
40s: I need to make time for me.
Hindsight is always best isn't it? And do you have a kind of motto that you live by? 
It's my writing motto, but could also be applied to any career or ambition. The 3 P's: Patience, Perseverance, and Putting in the Time. Nothing worth working on or toward comes easy, and we need to be patient with ourselves and with the path; we will triumph and work through the hurdles or at least learn from them, and everything takes time to do well.
FANTASTIC lessons! What inspires you, Jean?
I love the great outdoors. I love gardening. I love being in nature. Just being. Breathing, taking in the awe-inspiring sights… vistas, mountains, streams, wooded trails, all of it whether by paddle (kayak) or boot (hiking). It's a goal of mine to see as many of our national parks as possible. The world is my muse. I'm also inspired by my own life journey. My experiences in life and loss, in love, in parenting, somehow all make their way into my books, either as a plot point, theme, or little bitty sprinkles here and there. Character names, personalities, hobbies, places, experiences, memories, villains… It's fun to add a dash of me here and there and most readers don't even know. 😉 But it's there. Even my historicals.
I love that! Especially the bit about inspiring yourself, we all need that. How did your interest in writing originate? 
I loved to daydream as a kid. My mother was an artist and poet. I used to love to watch her work. As a kid, I wanted to be an art teacher. But I was also drawn to words. I wrote silly stories in my tweens and poetry in my teens. Meanwhile, I also fell in love with science so that was the path I took in college/grad school. But all the while, the dreamy romantic in me wanted to write novels. Reading a few great ones back in my 20s (like Diana Gabaldon and Julie Garwood) really sealed the deal. Though my mother passed away when I was 25, I dedicated my first book to her a few years ago, and she continues to inspire me, an angel whispering words of support and inspiration. I've got 3 practice novels (meaning – permanently boxed away), and she read one of them even in her last days. It gave me the push I needed to keep on with this dream.
Sophie's choice…Answer honestly which of your books is your favorite? (You can't say all of them)
Will Rise from Ashes. We're not supposed to have a favorite, but I do. Reason: people say write your story, write what you know. So I did. Then I fictionalized the heck out of it. It's women's fiction with a romantic element. It's got a supervolcano eruption that could happen in our near (or very far) future. I am a parent of an autistic child who inspires me daily (oh and loves volcanoes…see the trend here?). I've been handed a lot of losses in life. So, I had to put it all in a story. Then it morphed from Jean's story to AJ Sinclair and her son Will's story. Second place: Soul of the Storm. Another loosely inspired by a real-life story. I had so much fun writing that one.
If you could have dinner with any author, living or dead, who would it be and why?
Gabaldon. We could talk Scotland and science. I've heard she is a very kind person. I'd love to just hang out and chat with her.
That's someone I'd like to hang out with too!  What would you most like to say to your readers?
Experiment with your reading – whether it's sticking with the same genre but trying different authors, or delving into a new time period, sub-genre, or book type. I hop around, reading romance, women's fiction, historical, contemporary, YA, non-fiction, cozy mysteries, and suspense. Reading is highly subjective but meant to be enjoyed. I recently found a new author I LOVE after reading many books I did not love so much for a group book club. Experiment, read, enjoy. I'd add to this – try a new way, too, if you want. I learned a few years back that I love audio books. They are now my go-to.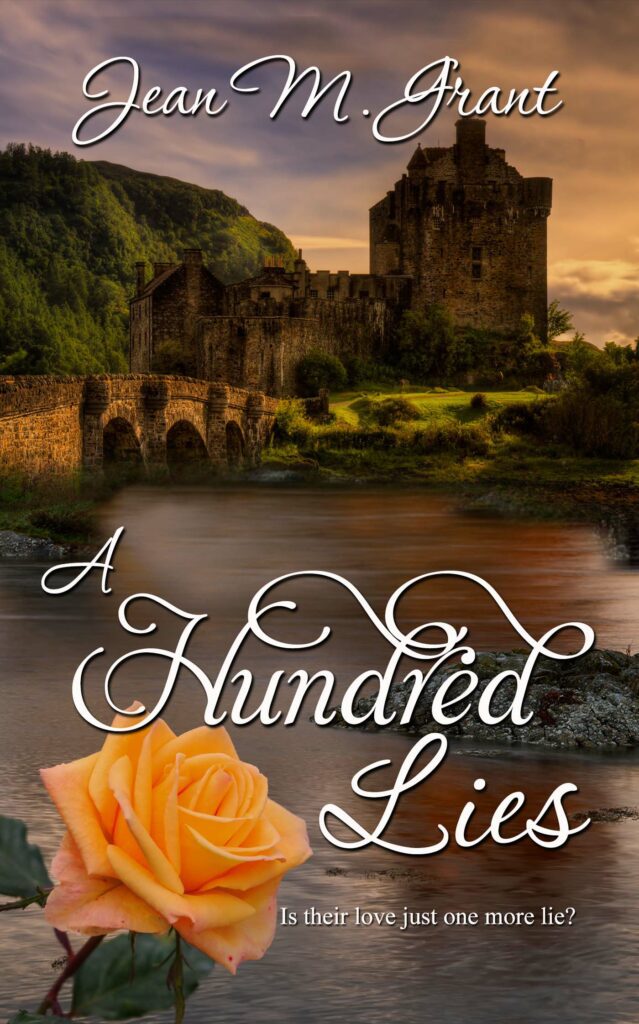 A HUNDRED LIES
Release Date: August 5, 2020
Publisher: The Wild Rose Press
Excerpt 1:
He inhaled the fresh, earthy fragrance of impending rain. The crack of thunder sounded as
droplets began to patter the ground in beat with his boots. He swam through the mugginess, each step determined, each step a liberation from the vapors of the vision. He made for the gardens, steadying his thoughts. Something didn't feel right.
A commotion drew him to the rows farthest from the keep. Ewan waved frantically toward him. Ewan then crouched by a body, prostrate in the carved garden row.
Domhnall dashed to the scene. Others congregated.
A lass in a simple gown.
He jerked his head at the sight of her hands bound loosely with twine, and a sack over her head. "Sir Montgomerie! Thank the Lord. I came when I heard her scream and—" Ewan's cheeks were splotched with red, his eyes wide and confused as he blinked away the rain dripping down the furrows in his forehead.
Domhnall dropped to the ground beside her and ripped the linen sack from her head. His stomach clenched. "Rose! Wake, lass. My God, Rose!"
"Sir, should I lift her?" Ewan knelt, ready for action.
What the hell?
Domhnall's cowardice to touch people—to help people—shuddered through him with humiliation. Did they all think him an ignorant lout? Did they truly think he held himself higher than them because of his rank? No more. Let the visions take his soul.
He loosened the twine around her wrists and gathered her into his lap, lifting her up from the muddy ground. He was tired of being idle and looking like a haughty nobleman. Or worse, a dastard who could not face the devil. No more feeding fears.
"Sir, should I fetch a soldier, or watchman—" Ewan sputtered at Domhnall's action. "I can help."
"Get the healer. Send him to my bedchamber." He wasn't going to drag the poor lass to the servants' quarters and cause a stir with the celebratory preparations. Cawley would lose his wits if Domhnall brought this extra quandary anywhere remotely close to the kitchen or hall.
"Aye, sir." Ewan rose.
"No. No, wait. My mother. Get her, please. Send her, with some linens."
A puzzled frown crinkled Ewan's brow. "Sir?"
He released an impatient, heavy sigh.
Ewan bowed. "Aye." He ran toward the keep.
Domhnall swiped tangled wet hair from Rosalie's forehead. A large, red welt formed on the side of her face, along her cheek. Her skin was chilled. Yet…she felt divine. Smooth, vibrant, and ever silky. Energy prickled his fingertips. The wind rustled in an eddy. To hell with you, Wind. Release your wrath. I don't care.
He felt for a pulse in her neck. Good.
He'd forgotten what others felt like. Her hands upon his last night had been the stepping-stone. A trickle of need coursed within him. It begged for more. He took a fingertip and gently touched her lips, hovered to assess breathing. He wanted to help her. Protect her. Be with her.
Sensation puddled within his soul like a spicy brewed cider ale on midwinter's eve. He'd been cold for so long, fearing fire. Fearing touch. Heat melted his resolve.
Let's finish with some TattleTales!
Dogs or Cats? Meow
The number of books you've written? Five
Name three things you see when you look right.
Ouch it hurts to look right – a heat pad is on my strained left neck muscle - lol
New gray, plush carpet in my bedroom
My newly moved desk (it used to be in the playroom – talk about distractions)
What's the best swag item you've ever seen? Coffee
Who do you think is the most irritating celebrity? Kayne West
What is your most attractive feature? Long neck, good complexion
Cook, baker or next question? Both. Scones yesterday.
Place you'd like to visit: New Zealand again
If a movie was made about your life, who would you want to play you? Emily Blunt
What song best sums you up? Daydream Believer by the Monkees
Describe yourself in three words:
Resilient
Compassionate
Nurturing
If we were here when earth began would you be a hunter or a gatherer? Gatherer
Coffee or tea? Coffee 24/7
Spring, Summer, Fall Winter? Summer (or any season with flowers)
Mac or PC? PC
What is your favorite thing to learn about in your free time? Gardening, anything science-related
You have a time travel machine. Where and when? Medieval Scotland of course
Are you earth, wind, fire or water? (Oh how funny because the elements are in my books…). I am water.
"I hope you enjoy my stories as much as I enjoy creating them. A very wise woman said to me that everyone was a writer, some just don't know their own story. I hope you find yours and write it down."
Jeny Heckman