Maria Imbalzano
BOOK SPOTLIGHT on "A Song For Another Day"
Author of the "The Deerbourne Inn" Series
Author Bio:
Maria Imbalzano is a retired matrimonial lawyer who now writes full time. Instead of drafting motions, legal memoranda, and briefs, although fascinating, she now spends her days creating memorable characters and taking them on their emotional journeys through her contemporary romance novels.
In addition to writing fiction, Maria is on the Friends of Thomas Edison State University Foundation Committee and is still involved with Dress for Success Central Jersey, having been a founding Board member. She also serves on the finance committee for The Present Day Club. She has received the distinguished Family of Edison Award for her work with The Thomas Edison State University Foundation, the Iron Mike Professional Achievement Award from Trenton Catholic Academy, and was inducted into the Italian American National Hall of Fame.
Her novel, "Unchained Memories," won the Wisconsin Romance Writers Write Touch Readers' Award and the ACRA Readers' Choice Heart of Excellence Award. "Sworn to Forget," the first of the four-book Sworn Sisters Series was a finalist for the illustrious RONE award as well as the Book Buyers Best Award.
Connect with her: 
A Song For Another Day:
Gigi Jenson, an up-and-coming Broadway star, finds herself in Willow Springs, Vermont, for the summer as director of their first annual community revue. This sleepy town is worlds away from her vibrant and beloved New York City, but the experience she'll gain will be invaluable to her career.
Jason Simmons has lived in Willow Springs his entire life. Working several jobs while writing music, he yearns for a contract to record his songs. The one chance he had to make it in Nashville he blew due to stage fright.
When Jason volunteers to help Gigi with the revue, sparks ignite but their dreams are taking them in different directions. Could their love for each other guide them to the same path?
Hello Maria! Welcome to Jeny's TattleTales!
Okay lovely lady, let's start this conversation with a simple quick question about your book. What was the hardest, most unusual, or interesting part of the story to research? 
Since my two main characters in "A Song For Another Day" were writing a song together, I had to write a song. I don't know how to write a song. So, I borrowed the melody from a song I love called "One Man Band" by Old Dominion, and I wrote words that meant something to Jason and Gigi to that tune. It took several hours over a few days, but they did it! Of course, the melody is something Jason wrote, but I didn't have to go that far, thankfully. I named the song, Wild Dreams.
What are two (or more) of your all-time favorite books in any genre? 
"Something Borrowed" by Emily Giffin (and every other book by her). This is such a perfect, angsty, romance where the heroine falls in love with her best friend's fiancé. It's funny, sad, and a great romance. The movie is really good too. "Water from my Heart" by Charles Martin is a suspenseful story of love and redemption. A Harvard grad becomes a drug runner and ends up in South America to help his friend find his son. It's there that he finds himself.
Sophie's choice…Answer honestly which of your books is your favorite? (You can't say all of them :) ) 
My first book, "Unchained Memories" is my favorite. It has a lot of twists and turns-— legal drama, family issues, philosophical differences—and a great love story. It also won several contests which was so validating.  
What do you do for fun, besides writing?
I love to get together with my girlfriends from high school. We laugh so much, despite all the years that have passed. The good thing is that I still live in the area where I grew up, and so do three of my four best friends. So it's easy to stay in touch (pre-covid). The last time three out of the five of us got together (along with our husbands) was New Year's Eve. We stayed overnight in Philadelphia and did what we love to do – drink, eat at a fabulous restaurant, dance, and talk. There is always non-stop talking. Because of covid, we have not gotten together, but we do Zoom.
Who is your biggest cheerleader on earth or angel in heaven?
My mom. She's 93 and is amazing. Before this pandemic, she was always out and about. Wherever she is, she hands out my booksmarks – it could be at the doctor's office, Macy's, Barnes and Noble. She just starts talking to people, and somehow gets around to the fact that her daughter writes romance novels. Then she hands them a bookmark or two. Although, she does hate the sex scenes in my books. She has told me they are not necessary. I told her to skip over them. We are at a stalemate.
Have you written any other books that are not published?
Yes, I have three books sitting in a drawer (and on my computer). The first book I ever wrote is called "Conflicts of Interest." It takes place in Florence, Italy, because I just love that city, and it involves a terrorist group, a wrongfully arrested friend, and a very handsome Italian detective. That one may never see the light of day. The second book is called "Leap of Faith" and it is somewhat of a continuation of the first book, but takes place in NYC. This time, the male friend who was arrested in the first book, is the hero. The third book, called "Island Fever," I do intend to take out, edit it to death and send it to my publisher. It has nothing to do with the first two books.
The last question is… What is next for you?
I have so many projects just waiting for my attention, it's hard to sleep at night. I just listened to a seminar on recording your own audiobooks. I purchased the equipment, which is not that expensive, and intend to start with my novellas since they are shorter. We shall see how that goes. I also took a seminar in turning your book into a screenplay. I am reading the follow-up materials and plan to turn my first published book, "Unchained Memories" into one. I just sent the third book of My Sworn Sisters Series, "Sworn to Fly" to my editor and am waiting to hear from her. I also submitted a proposal to my publisher for a story for their Wylder Series.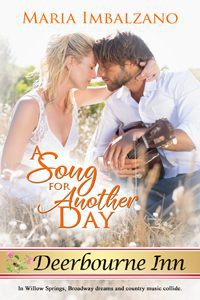 A Song For Another Day
Release Date: October 21, 2020
Publisher: The Wild Rose Press
Cover Artist: Diana Carlile
Genre/Sub-Genre: Contemporary-Romance
Excerpt 1:
Halfway through the song, the air in the tavern seemed to change. His gaze followed that of a few of the guys sitting nearby. Giselle had walked in. Not exactly walked. Glided. His heart picked up a quicker beat, as he concentrated on the words to the song he was singing. Thankfully, he could sing this song with no brain cells.
Dressed in black jeans—designer no doubt—a black silky tank top, and black-heeled sandals, she stuck out in the crowd like a glittering star in a dark, moonless sky. Her long blonde hair was pulled up into a high ponytail showcasing her elegant neck and dangly, silver earrings. Silver bangles graced her wrist. Definitely overdressed.
Her gaze clicked on his, and surprise lifted her perfectly arched brows.
She found an empty barstool, perused the menu, and ordered something from Sarah. Apparently, she was staying for a while. Maybe he'd join her on his break. She probably knew no one in town, which had to be difficult. The least he could do was introduce her around so she'd feel more at ease.
Maybe he'd even give her some tips on how to dress when coming to Finnigan's.
Although she sure looked hot in those upscale black jeans.
EXCERPT 2
With Herculean effort, he tamped down his burning desire. "I better go," he said instead of take me to your bed.
Her eyes flew open, and she uttered an "Oh," as if surprised—either by his statement or her reaction to his kiss, he didn't know which.
He swallowed, keeping in the words he wanted to say. "I have an early morning pickup at the airport, and I know you have a lot on your plate."
She bit her lip, the lip he'd just assaulted with his mouth, and he ached to return.
"Yes. Well…thanks again for dinner. I'll see you…around." She bowed her head and walked away, disappearing into the inn as he watched her go.
Had she wanted him to come to her room? If she did, she would have asked. Besides, flaunting that kind of intimacy in front of whoever was watching would be fast-forwarding the rumor mills. She definitely wouldn't want that. Yet she'd seemed disappointed that he called upon every self-controlling atom he had to pull away from her.
Maybe a good thing. He needed time to think this through, and being in her presence clouded his already murky judgment. They'd just met three days ago. Taking it slow to see what they both wanted was the prudent course. On the other hand, they only had six weeks.
Fast and furious might be the way to go.
Time for some of Jeny's TattleTales!
Dogs or Cats?   Cats  
The number of books you've written?  6 published, another one is with my publisher, and 3 are in a drawer 
Name three things you see when you look right, and  
ALladro ballerina which is on my desk for some reason 
Three book awards 
A few how-to books (Creating Character Emotions, TheScreewriter's Bible, Save the Cat)  
What's the best swag item you've ever seen?  Chip clips (to close bags of chips) 
Who do you think is the most irritating celebrity?  Any Kardashian (are they celebrities?) 
What is your most attractive feature?  My legs 
Cook, baker, or next question?   Baker from a box  
Place you'd like to visit: Croatia  
If a movie was made about your life, who would you want to play you? Sela Ward (you may remember her from "Sisters" or "Once and Again" – both TV shows  
What song best sums you up?  I hope it's "Girl On Fire" by Alicia Keys  
Describe yourself in three words: 
friendly 
fun-loving
happy
If we were here when the earth began would you be a hunter or a gatherer?  Gatherer- I'd be too scared to hunt 
Coffee or tea?  coffee 
Spring, Summer, Fall Winter?  Most definitely summer-I'm a beach walker  
Mac or PC?  PC 
What is your favorite thing to learn about in your free time? Anything writing-related 
You have a time travel machine. Where and when?  Early 18th century – Paris, France – it was the Rococo period and their fashions were elegant, extravagant, and sophisticated. But I must be rich! 
Are you earth, wind, fire, or water?  Wind  
"I hope you enjoy my stories as much as I enjoy creating them. A very wise woman said to me that everyone was a writer, some just don't know their own story. I hope you find yours and write it down."
Jeny Heckman