Author Spotlight: N. Jade Gray
BOOK SPOTLIGHT ON: Tangled in Tinsel
Author Bio:
N. Jade Gray, grew up on a farm in Oklahoma with one sister and three brothers. She began reading romance novels in high school and was hooked. In an attempt to entertain her friends, she began writing stories. The biggest hurdle she had to overcome with her writing was sharing her stories. Her former writing groups, the Wichita Area Romance Authors and Low Country Romance Writer's, helped with her confidence and shook the needed pompoms to get her motivated for publication. She is also a former member of the Romance Writers of America. She met her husband while attending college and has two grown sons. Not really knowing what she wanted to do when she grew up, she's held various jobs in the accounting and legal fields. She lives in Kansas with her husband, rescue cats Meera and Mango, and one spoiled dog-named Fabio.
Connect with her: 
TANGLED IN TINSEL BLURB:
Sugar plum fairies eat your heart out…
Madison Reynolds had visions of a different kind dancing in her head. Home for the holidays in Cedar Bend, Colorado, Madison must focus on helping her bedridden pregnant sister, not fantasize about the one who got away. But how is she supposed to forget about her high school crush when she bumps into him at every turn?
From the moment Ryder Sanders untangled the reindeer antlers from Madison's hair his Christmas season appeared brighter. The time spent in her company leaves him more smitten. So, why does she still treat him as if he has cooties? They're not in high school anymore.
Can the two find a forever love? Or will their wishes melt away like icing on a Christmas treat?
Hello Jade! Welcome to Jeny's TattleTales!
Okay lovely lady, let's start our quick interview. I know you travel a lot. 4. What type of work do you try to accomplish while traveling on an airplane?
I'm not fond of flying, but when I do I have a goody bag. It contains several books to choose from, word search puzzles, a notebook if inspiration hits, and a music player.
I have a podcast I'm launching next year and some of the episodes will be recorded on zoom with video. Have you considered doing a video blog?
I have thought about it, but I'm not sure if I will follow through. I was supposed to speak in a commercial once for my day job and I froze. Nothing. Nada. Zilch came out of my mouth. Hollywood dreams dashed. I wound up on the cutting room floor.
That's hilarious, but I totally get where you're coming from. Are you attending a conference where you can share your highlights from sessions?
2020 happened and no conferences this year, but I am signed up to attend the 2021 Wild Deadwood Reads readers conference in June: https://wilddeadwoodreads.com/. I attended in 2018 and had a great time.
Yes, this year was indeed a doozy and I hope next year things can go back to normal, if not completely, then at least as close as possible. Let's continue with something lighter. Do you have an embarrassing story?
Just one? Are you kidding me? How long do we have and where do I begin? Here's one for you: I played Basketball in High School. We just completed a tournament game and I had seen a boy I liked in the stands. In the locker room I hurried to get dressed hoping I didn't miss talking to him. Well, my cousin asks me where I changed my clothes? I thought it was a weird question until I realized the Coach was still in the room talking about the game and I had just shucked my suit and got dressed in front of him. His cheeks were red, but he always had a ruddy complexion. He calmly says, "I've seen it all before." I. Could. Have. Died!
OMG! I could have died there with you! What would you say to a younger version of yourself?
Your stubbornness will pay off. Keep at it!!!
If you could have lunch with one person, who would it be?
Betty White.  What a fun lunch that would be!
I agree, it could be the bet lunch you ever had. I love Betty White. She's so much fun. Speaking of Betty White... did you see how good she looks for her age? I want to look just as good when I get up there in years. What is your makeup routine? 
Truthfully, I don't like wearing make-up. If I can get away without wearing it I do.
What books are on your shelf? 
Too many if you ask my husband. I swear they are like rabbits. You leave them in the dark and two more appear overnight.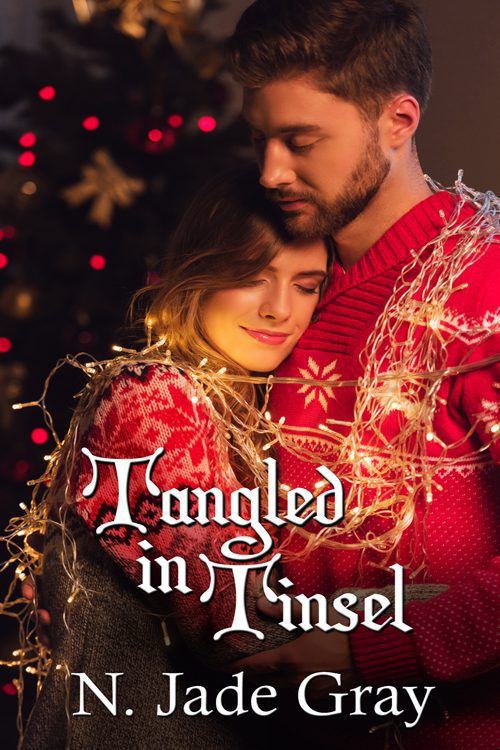 TANGLED IN TINSEL
Release Date: December 7, 2020
Publisher: The Wild Rose Press
Cover Artist: Debbie Taylor
Genre/Sub-Genre: Romance-contemporary
Excerpt 1:
Opening a drawer, she pulled out an apron. "Are you as messy as my brother-in-law?"
He chuckled and settled the apron around his neck. "Maybe. What do you think? Does it work?"
Her laughter died in her throat as she noticed the adorned wording embellished across the front. Bring the heat. Kiss the Cook.
His gaze met hers before tilting downward to study the wording. He chuckled and caught her gaze. "Jim's?"
A nervous laugh emerged as an image of a sudden fantasy played in living color in her mind. Wouldn't she love to bring the heat? "Maybe? But knowing Maggie, I'm not one hundred percent certain it isn't hers." She retrieved a mixing bowl for the pancake batter. Her mind wandered back to kissing her assistant cook. What she wouldn't give to have that type of creative license. A wave of heat made its way into her cheeks. It's a good thing the smoke detector couldn't read her mind. Or it would be sounding again.
EXCERPT 2
A groan rattled in his throat before he leaned down to seal her lips with his own.
The heat from the night before hadn't been a fluke. She reluctantly broke free from the kiss and leaned her head against his chest. She inhaled deeply. His scent clung to his shirt heightening her senses, which made what she needed to say much harder to express. "We can only be friends."
To hear her whispered words, he dipped his head. "Sorry?"
She swallowed, met his gaze, and stated a little louder, "We can only be friends."
A disappointed expression crossed his features before he abruptly dropped his hands and stepped back. He glanced away and took a deep breath. "Sorry. I didn't mean to overstep." Without another word, he abandoned her in the kitchen.
"I hope you enjoy my stories as much as I enjoy creating them. A very wise woman said to me that everyone was a writer, some just don't know their own story. I hope you find yours and write it down."
Jeny Heckman